September 12, 2019 NHTSA CAMPAIGN NUMBER: 19V653000
Improperly Welded Seat Belt Guide Loop Mount
In the event of a crash, the mount could become damaged and the seat belt may not properly restrain the driver, increasing their risk of injury.
NHTSA Campaign Number: 19V653
Manufacturer BMW of North America, LLC
Components SEAT BELTS
Potential Number of Units Affected 7
Summary
BMW of North America, LLC (BMW) is recalling certain 2020 Toyota Supra vehicles. The driver's seat belt guide loop mount may have been improperly welded.
Remedy
Owners have been notified, and Toyota dealers will inspect the seat belt guide loop mount. If the mount is defective, the vehicle will be replaced, free of charge. The recall began September 13, 2019. Owners may contact the Toyota Customer Experience
Center at 1-888-270-9371. Toyota's number for this recall is K0R.
Notes
Owners may also contact the National Highway Traffic Safety Administration Vehicle Safety Hotline at 1-888-327-4236 (TTY 1-800-424-9153), or go to www.safercar.gov.
Check if your Vehicle has a Recall
---
Original Publication Date: September 12, 2019
To: All Toyota Dealer Principals, General Managers, Service Managers, and Parts Managers
SAFETY RECALL K0R (Remedy Notice)
Seven 2020 Model Year Supra Vehicles
Driver's Safety Belt Guide Loop Mount Potentially Not Welded to Specification
Background
On September 12, 2019, BMW filed a Defect Information Report (DIR) with the National Highway Traffic Safety Administration (NHTSA) informing the agency of the intent to conduct a voluntary Safety Recall on seven 2020 model year Toyota Supra vehicles.
Condition
This Safety Recall involves the driver's safety belt guide loop mount which may not have been welded to specifications. If the driver's safety belt guide loop mount was not welded to specifications, then in a crash of sufficient severity, the mount could become damaged and may not restrain the driver as designed which would increase the risk of injury to the driver.
Remedy
As of September 12, 2019, four of the seven total vehicles involved in this Safety Recall have been completed for this Safety Recall.
Toyota will contact owners of the three remaining incomplete vehicles to coordinate an inspection of their vehicle at the owner's preferred authorized Toyota dealership. If a defective driver's safety belt guide loop mount is found during this inspection, the vehicle will be replaced FREE OF CHARGE. Any owner who cannot be reached by phone will receive a letter by First Class mail by mid-November 2019. 
In the rare instance that your dealership is requested to facilitate an inspection of one of the three incomplete vehicles, a Toyota Customer Experience Center or Regional representative will contact your dealership with further instructions.
Covered Vehicles
There are seven vehicles covered by this Safety Recall. No vehicles involved in this Safety Recall were distributed to Puerto Rico. No other Lexus/Toyota/Scion vehicles are covered by this Safety Recall.
Customer Handling
Customer Contacts
Customers with additional questions or concerns are asked to please contact the Toyota Customer Experience Center (1-888-270-9371) – Monday through Friday, 7:00 am to 7:00 pm, Saturday 7:00 am to 4:30 pm Central Time.
Media Contacts
It is imperative that all media contacts (local and national) receive a consistent message. In this regard, all media contacts must be directed to Tania Saldana (859) 815-9968 in Toyota Corporate Communications. Please do not provide this number to customers. Please provide this contact only to media.
Campaign Designation / Phase Decoder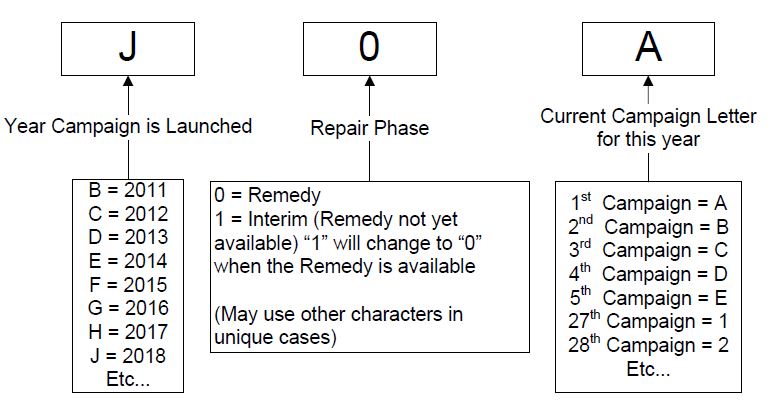 Examples:

C1B = Launched in 2012, Interim Phase, 2nd   Campaign Launched in 2012

E0A = Launched in 2014, Remedy Phase, 1st  Campaign Launched in 2014

J0A = Launched in 2018, Remedy Phase, 1st  Campaign Launched in 2018.
Please review this entire package with your Service and Parts staff to familiarize them with the proper step-bystep procedures required to implement this Safety Recall.
Thank you for your cooperation.
TOYOTA MOTOR SALES, U.S.A., INC.
---
1 Affected Product
Vehicle
MAKE
MODEL
YEAR
TOYOTA
SUPRA
2020
---
3 Associated Documents
Defect Notice 573 Report
RCLRPT-19V653-4921.PDF 214.037KB
---
Recall Acknowledgement
RCAK-19V653-7232.pdf 244.779KB
---
Manufacturer Notices(to Dealers,etc)- SAFETY RECALL K0R (Remedy Notice)
RCMN-19V653-4968.pdf 351.107KB
---
Recalls Documents
https://www-odi.nhtsa.dot.gov/acms/cs/documentList.xhtml?docId=19V653&docType=RCL
---
Sale
Bestseller No. 1
CarGuys Super Cleaner - Effective All Purpose Cleaner - Best for Leather Vinyl Carpet Upholstery Plastic Rubber and Much More! - 18 oz Kit
– THE HYPE IS REAL! – Are you tired of using cleaners that work, but not as good as you expected?! You won't experience that here! Our newly formulated multisurface cleaner is made with the newest advancements in nano-technology to effectively lift away dirt and grime at the molecular level. No more wasting time and energy with nonsense products made with old science and technology!
– REPLACE YOUR CABINET OF CHEMICALS! – Do you get confused by all the different types of cleaning supplies that are available? It gets frustrating fast! Just cleaning your vehicle requires some special deep stain remover, a chemical solvent to get rid of bug and tar, a separate floor mat and inner dash cleaner.. and the list goes on and on! Keep it simple with one multipurpose product, CarGuys Super Cleaner... the KING OF ALL CLEANERS !
– SUPER CLEAN ANY SURFACE! – This multi surface product works on absolutely every interior or exterior surface except glass and delicate instrument panel screens! That means this ONE PRODUCT will clean upholstery , fabric , canvas , leather , vinyl , plastic , rubber , bird poop , grease , tree sap , metals , wood trim and so much more! This is the most versatile multi-purpose cleaner on the market!
– CLEAN FINISH, NO GLOSS! – Stop purchasing inferior products that claim to clean and protect! These products never clean good enough, and they leave behind a cloudy, tacky, thin and greasy film. That's because the cleaning agents affect the conditioner, resulting in both a bad cleaner and protectant! The correct way is to use a great cleaner, then if you want to, finish with a proper UV guard. Our product is that first step to bringing back that new clean touch, just like the day you bought it!
– WHAT IF I'M NOT HAPPY? – There is nothing on the market like this stuff! We believe that this is the ABSOLUTE BEST all around cleaner on the market!! If you don't agree, there's no fine printing to read and no gimmicks here! Get in contact with us ANYTIME after your purchase and we will provide a FULL REFUND! So what are you waiting for?! CLICK 'Add to Cart' NOW, 100% RISK FREE!
Bestseller No. 2
Bestseller No. 3
Bissell 3624 SpotClean Professional Portable Carpet Cleaner - Corded
Professional spot cleaner removes tough spots and stains from carpet, stairs, upholstery and more
5 flex hose helps to clean spots and stains in hard to reach areas including stairs, upholstery, and area rugs
Includes 6 stair tool, 3 tough stain tool and 8 Ounce Professional Deep Cleaning formula
Long reach 22 power cord. Hose Length is 5 foot, Power Rating: 5.7 amps. Tank Capacity : 3/4 gallon
2 year limited warranty.Weight:13.2 pounds
Bestseller No. 4
Interior Cleaner, Carpet Cleaner, Seat Cleaner, Fabric Cleaner, Cleans Carpets, Seats, Leather, Upholstery and Vinyl, Aircraft Quality for your Car Boat RV Meets Boeing and Airbus Specs 16oz
Gently Cleans Carpets, Fabric and Leather seat, Trim Panels, Headliners, Tray Tables, Cockpit, & Galleys
Removes Beverages Spill Stains, Body Oils, Lotions & Make-Up Stains.
Safe to Use on All Interior Types
Meets Boeing Aircraft Interior Specification D6-7127M & Airbus AIMS 09-00-002
Once You Try Aviation Grade Products You Will Not Want to Use Automotive Products Again!
Sale
Bestseller No. 5
Sale
Bestseller No. 6
Woolite Carpet and Upholstery Cleaner Stain Remover, 4 pack - 83524
4x action: clean, eliminate odors, discourage resoiling in the same Area, & refresh carpets
Stain lift technology: lift and remove tough pet stains like urine, vomit, mud and feces
Patented odor elimination neutralizes even the strongest pet odors
Attached fabric safe brush
Help keep your fabric, upholstery and carpet looking cleaner longer
Bestseller No. 7
MEGUIAR'S G191419 Carpet & Upholstery Cleaner, 19 oz
DEEP CLEAN: deep cleaning, professional strength formula removes stains & odors
REMOVE ODORS: Features Maguire's permanent odor eliminating technology*
QUICK AND EASY: fast acting foam breaks down stains for quick & easy cleaning
RESIDUE FREE: dries quickly without leaving behind a sticky residue
NEW CAR SCENT: leaves behind a fresh, new car scent
Bestseller No. 8
Turtle Wax 50714 Clean and Fresh Kit with Microfiber Towel
Includes 18 Fl Oz. Interior 1 Multi-Purpose Cleaner, 23 Fl Oz. Odor-X Odor Eliminator Spray, and bonus Microfiber Towel
Advanced cleaning formula deep cleans and deodorizes carpet and upholstery in one step
All-new patent micro-scrub brush cleans deep into fabric fibers, and detaches for ultimate ease of use and deep, targeted cleaning
The Odor-X technology will seek and destroy odors caused by smoke, pets, coffee, food, spills and more
Seek and destroy odors for up to 30 days
Sale
Bestseller No. 9
Bestseller No. 10
Hoover Spotless Portable Carpet & Upholstery Spot Cleaner, FH11300PC
LIGHTWEIGHT: Achieve ultimate portability with this lightweight design to reach and remove stains virtually anywhere
CONVENIENT DEEP CLEAN: Spray, scrub, and remove anything from pet messes to everyday mishaps
LONGER REACH: Easily reach spots and stains on carpet, upholstery, stairs and more with the 5ft. hose
SELF-CLEANING TECHNOLOGY: Flushes the hose after each use to help remove dirt and bacteria
DUAL TANK TECHNOLOGY: Keep clean and dirty water separate so you can easily fill, empty and rinse the tanks
Last update on 2020-02-19 / Affiliate links / Images from Amazon Product Advertising API
Last update on 2020-02-19 / Affiliate links / Images from Amazon Product Advertising API